Coincidence or not, the beginning of 2021 in Estonia brought about an unprecedented consolidation of women leading in politics as well as the visibility of women's stories in several exhibition spaces around the country, writes Marika Agu from Estonian Centre for Contemporary Art.
It's not art/politics/literature, it's witchcraft
Coincidence or not, the beginning of 2021 in Estonia brought about an unprecedented consolidation of women leading in politics as well as the visibility of women's stories in several exhibition spaces around the country. At the moment, Estonia is the only country in the world led by two women: both the elected president, Kersti Kaljulaid, and the elected PM, Kaja Kallas, are female. Not just that, also the cabinet of ministers is gender-balanced. Some may say that it is just symbolic (indeed, as we can't be sure if that leads to fixing the worst pay gap between men and women, or other pressing issues), but at least it looks promising. Especially after the turbulent, tense, irritating two years in which a far-right party was making noise in the government, one feels relief for any change.
Despite the Covid-19 restrictions, a long-awaited exhibition by artist Flo Kasearu has taken over the floor of Tallinn Art Hall and made heard the stories of women who have suffered from domestic violence. The Art hall on the Freedom Square was visited by the president on that occasion as it is one of the focal points of Estonian society currently. The number of registered crimes taking place in people's homes has increased year on year. Kasearu's exhibition titled Cut Out of Life (curated by Kathrin Mayer) treats such a complex and uneasy topic by separating it into different chapters. She opens her act with the metaphor of dried out house plants, titled Violence Grows in Silence (2021), using the figure of carelessly left individuals, barely living and hanging on, scattered around en masse in the main hall.
The exhibition leads us to focus on the reasons which instigate violence from men (drawing series Excuses, 2021), also to witness how it transfers each case into the jurisdictional system (video Illustrating the Request for Privacy, 2016), after which, one is allowed a recovery through creative workshop therapy and is finally able to separate oneself from the perpetrator. Flo Kasearu's artistic practice is largely socially engaged, but her interest in this topic is not recent, and did not simply rise out of solidarity; rather, it is rooted within her own biography. Kasearu has involved her mother in a number of her projects (or is it the other way around) and has been collaborating with the women's shelter founded by the artist's mother since 2009.
Flo Kasearu's exhibition Cut Out of Life is open for the public until 28.3.
Those women
Parallel to this, artist Liina Siib has opened an exhibition in a similar vein. Siib has dealt with women's histories and their social position in several shows (i.e. Politics of Paradise, curated by Taru Elfving, 2019; and Women Take Little Space in the Estonian pavilion at the Venice biennale, 2011). On the corner of the romantic setting of Kadriorg Park, is situated a house museum, dedicated to the diplomat and writer Eduard Vilde (1865-1933), which Siib temporarily re-named after his wife – Linda Vilde's Museum (curated by Kadi Keskküla). Linda Vilde (1880-1966) was a figure who stood out in the male dominated policy making establishment, though the significance of her role was over-shadowed by her husband, as a condition of that time, reducing her to secretarial or representative tasks later as a widow. Her career started as an enthusiastic and politically active journalist, she spoke multiple languages, and did editing and coordinating work in newspapers and publishing houses for her husband.
Liina Siib's exhibition invites us to interpret one's life through a chronology of events and historical photos, as well as personal objects and letters. I was desperately seeking the artist's message or a hint of judgement within the exhibition, and was able to find a rhetorical question put onto an interior photo of exotic plants in the Vilde residency: "Who will water the plants while Eduard is away?" I believe Linda Vilde was an exemplary figure, thanks to whom her husband Eduard was able to carry out endeavours of his liking.
Liina Siib's exhibition Linda Vilde's Museum is open until 27.3.
In the town of Viljandi, in a house museum of the naïve and outsider art Kondas Centre, is an exhibition by sculptor Anne Rudanovski, the fourth in a series which deals with the habit of reading and the changing perception of books. Appreciated and Abandoned Books IV. Reading is Rudanovski's long-treated specialisation in paper and its symbology. At the exhibition, the artist spans out the history of reading in Estonia, but goes further into abstraction by depicting the subconscious impulses of creating a sign, an elementary visual figure which conveys meaning. With the rise of appealing visuals, Rudanovski foresees the decline of reading, witnessing the negligence of books. It is something which motivated her to jointly found a museum dedicated to the legacy of paper culture. She is the founding member of TYPA museum, located in Tartu, which specialises in printing technologies and paper.
Anne Rudanovski's exhibition Appreciated and Abandoned Books IV. Reading is open until 18.4.
To end, a personal note on limitations. These days, I cannot take the cultural exchange of ideas at exhibitions and performance halls for granted, as I used to. This makes us think, paradoxically, if before the pandemic we were over-producing events; or if I was over-attending them. Curiously; it seems that it is only now that one goes to see the things that she really wants to see.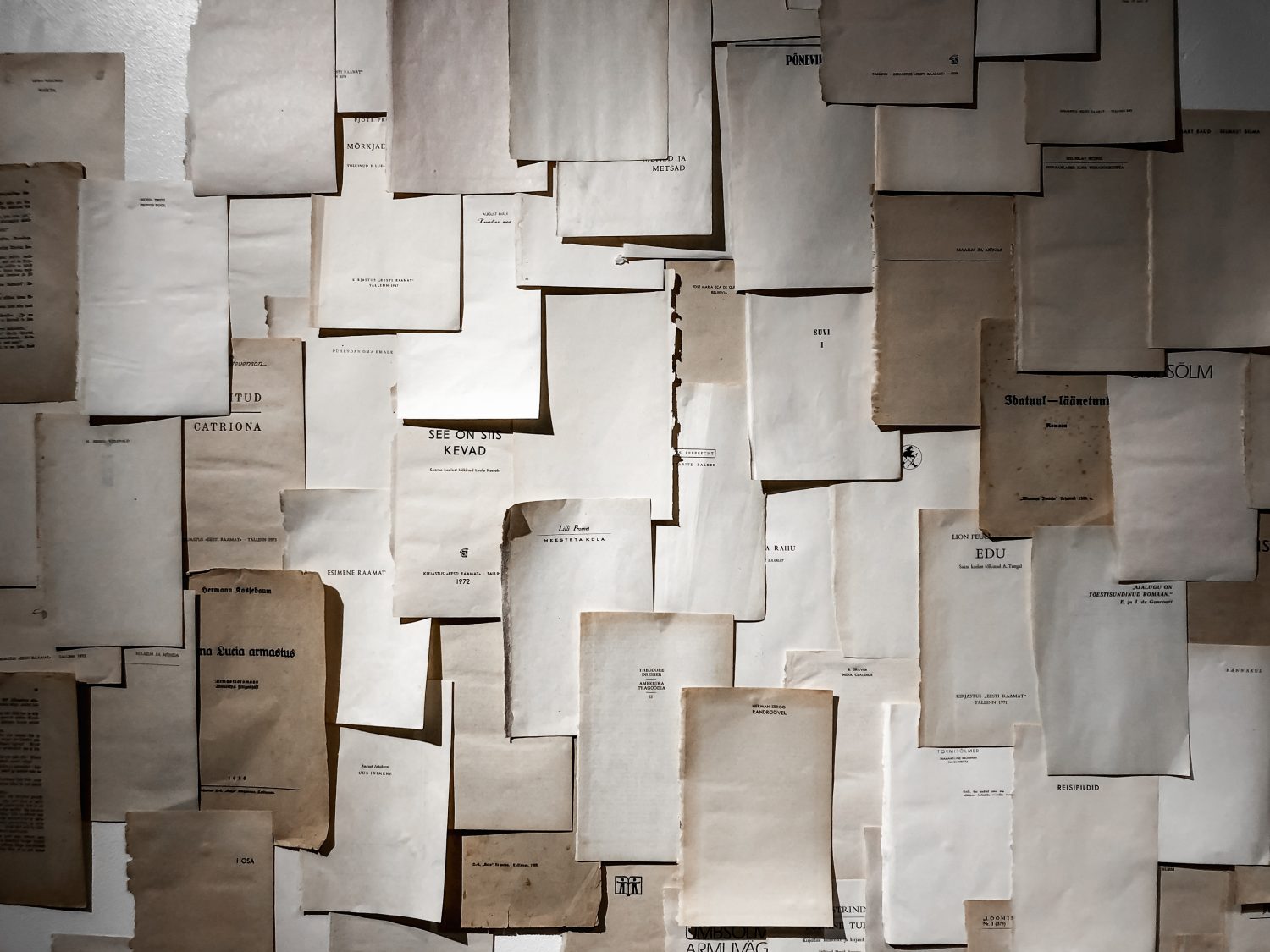 This text is part of a collaboration between EDIT and Estonian Centre for Contemporary Art's web magazine. In every two months EDIT will publish a text about Estonian art and the CCA magazine will publish an article about Finnish art scene. This article swap aims to keep up cultural exchange and awareness of the art scenes of neighbouring countries during the time when travelling and direct communication is complicated. 
Main image: Anne Rudanovski, view to exhibition Appreciated and Abandoned Books IV. Reading at Kondas Centre, 2021. Courtesy of the artist.